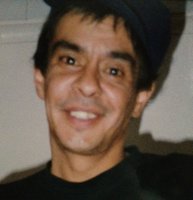 Ricardo Enrigue Lora
Ricardo Enrigue Lora, age 53, of Prospect Park died Tuesday, May 22, 2012 at St. Joseph's Hospital And Medical Center in Paterson, NJ. Ricardo was born August 30, 1958 in Lima, Peru and came to the United States in 1963 and settled in Paterson. He is the son of Lorenzo Lora of Kissimmee, FL and Viana Aguire of Prospect Park, NJ .
He served in the Army.
He is also survived by his son: Jason Lora of Paterson, NJ, his sisters: Veronica Zichelli of East Stroudsburg, PA and Rita Russomanno of Woodland Park, NJ and his brother: Lorenzo A. Lora of Browns Mills, NJ. He is also survived by his grandson and many nieces and nephews. .
The funeral will be held 1:00 pm on Tuesday, May 29 at Brigadier General William C. Doyle Memorial Cemetery, Wrightstown, NJ.